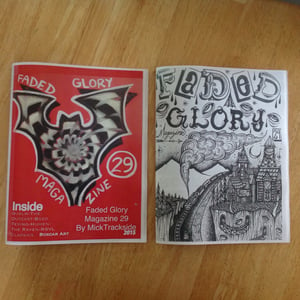 $

13.00
Full size full color boxcar art zine. Limited to 100. Comes in poly bag. Each issue comes with two covers by Texas Goth and Humen.
Interviews with The Outcast, Humen,and Qualm. Swampy NBD SHOW AT CHANDRAN GALLERY IN SF. Never before printed info about J.H.McKinley, the original BOZO TEXINO, provided by family member. Classic pictures of legendary Boxcar Artist such as WATER BED LOU and EL TRUNCON. The ROSEVILLE RAVEN and more.
each issue stamped and numbered
STOCK RUNNING LOW.